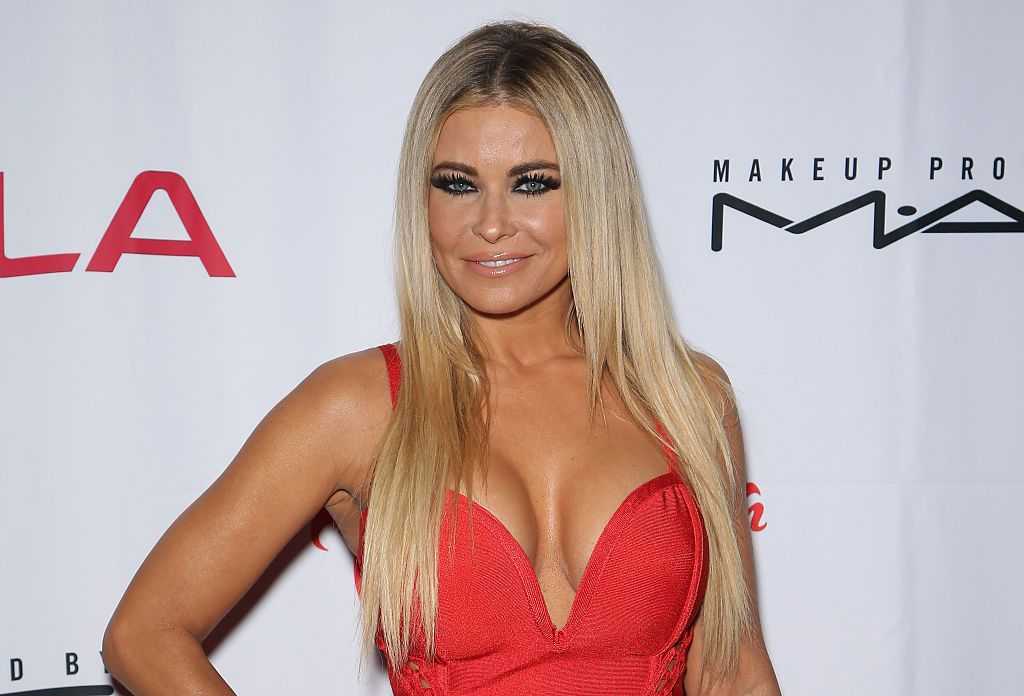 Full Name: Tara Leigh Patrick
Date of Birth: April 20, 1972
Profession: Model & Actress & Singer
Carmen Electra was born on April 20, 1972 in the USA. The youngest of six children (he has four brothers and a sister) attended Electra Ann Weigel Elementary School and, until the age of nine, studied dance at the Artists studio in Western Hills, under Gloria J. He enrolled in the School for Creative and Performing Arts (SCPA), an art school. He was a former classmate of Nick Lachey and was involved in the production of Peter Pan. Electra told People Magazine in 1997 that she "wanted to dance on Broadway", graduating from Princeton High School in Sharonville in 1990.
Electra is of Dutch, English, German and Irish descent and was very close to her family. She said of her mother, "My mom was my rock" and described her older sister Debbie as "like a second mother to me". After Debbie moved to Illinois, Electra said her life "revolved around my mom." "He was my best friend, 24/7 in my life whether I wanted him or not."
Electra began her professional career in 1990 as a dancer in one of the most popular shows in park history, "It's Magic," on Kings Island in Mason, Ohio. In 1991 he moved to Minneapolis, Minnesota where he met singer and songwriter Prince. Shortly after, Electra signed a recording contract with Prince's Paisley Park Records and began her short-term singing career. Years later he returned to music and performed occasionally with The Pussycat Dolls, especially when vh1 Divas shared the stage with artists such as Patti LaBelle and Debbie Harry in 2004. During her time at Paisley Park Records, she became known as Carmen Electra. In 1995, Electra began appearing on television shows. She appeared in a nude picture in Playboy magazine in May 1996. He participated in higher profile television series such as Baywatch (as Lani McKenzie in 1997-1998) and MTV's Singled Out. In 2003, baywatch: Hawaii returned to Baywatch for her sudden wedding movie. Electra has appeared in Playboy four more times: June 1997, December 2000, April 2003 and January 2009 anniversary issue.
In August 1998, Electra's mother died of brain cancer, and two weeks later her older sister, Debbie, died of a heart attack. During this time, Electra was dating NBA star Dennis Rodman. They married in November 1998 at the Little Flower Chapel in Las Vegas, Nevada. After 9 days, Rodman filed for annulment for the marriage. Electra explained: "It's easy to get caught in an instant. You think it's romantic, but then you realize, God, did we do it in Vegas? It's like buying a cheeseburger at a fast food restaurant. The couple then reconciled and celebrated New Year's Eve together, but four months later they mutually agreed to end their marriage "under friendly terms" in April 1999. On November 22, 2003, Electra married Dave Navarro, guitarist of rock band Jane's Addiction. The couple filmed and documented their marriage on an MTV reality television show 'Til Death Do Us Part: Carmen and Dave. They announced their separation with Navarro on July 17, 2006, and Electra filed for divorce on August 10, 2006; It became final on February 20, 2007.
Eye color
blue
Hair colour
Light brown
Height
Height: 5ft 2inc (157 Cm)
Weight
Weight: 121lbs (55 Kg)
Body Measurements
Body Measurements: 36-23-35 inches (91-58.5-89 Cm)
Sign
Coach