Rosé (Park Chae-young) Facts, Biography, Favorite Things, Boyfriends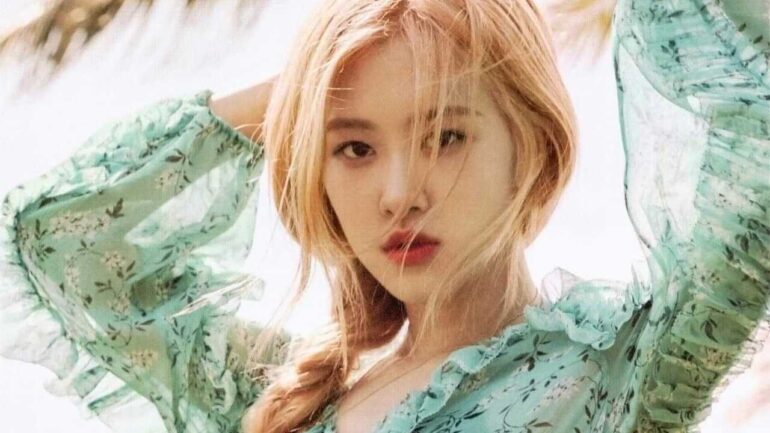 Rosé (Park Chae-young) Biography
Rosé (Park Chae-young) biography includes the life of a member of the BLACKPINK band known as the stage name Rosé. Roseanne Park was born on February 11, 1997 in New Zealand and the young singer grew up in Australia.
Rosé (Park Chae-young), who started singing and playing guitar at an early age, moved with her family to Melbourne, Australia in 2004. Rosé (Park Chae-young) also learned to play the piano and announced her piano in church choirs while living in Australia.
YG Entertainment audition took place after Rosé (Park Chae-young) 's father gave her advice. Rose auditioned in 2012 and won the audition, winning the first place among seven hundred people. Leaving her school in Australia, Rosé immediately signed with YG Entertainment. After signing a deal with the record label, Rose later moved to Seoul, and after returning there, she went into feverish work in her career.
Park Chae-young, who attended YG Entertainment auditions in 2012 and was entitled to enter the company, studied here for four years and managed to enter the cast of the BLACKPINK group.
In March 20121, he debuted for her solo career and released the single of the album named "R". This single, released on March 12, broke huge viewing records within 24 hours of its release.
Rosé (Park Chae-young) Facts
Park Chae-young's nicknames are Rosé and Rosie. But Park Chae-young likes to be called by her real name.
Rosé's Chinese zodiac sign is "ox".
The languages ​​she speaks include Korean, Japanese and English and she can speak these languages.
She has lived in Australia for a long time, but her native language is Korean she.
She has a sister named Alice. Park Chae-young's mother, father, and Alice are a lawyer.
She is the second youngest member of the BLACKPINK group, the youngest Korean member.
In terms of height, he is the tallest member in the BLACKPINK group.
She likes to use flowers in her signature and to use floral signatures in general.
Park Chae-young's famous foreign celebrity friend is Halsey.
Rosé has grown up with Western and Veitnam dishes. Eating rice before the stage show has become a ritual for him.
Park Chae-young, who loves to play the guitar, plays the guitar with her right hand, even though she is left-handed.
She was a cheerleader when she lived in Australia.
She is the last group member to join the BLACKPINK group. The band is finalized with the addition of Rosé (Park Chae-young).
She is the member of the group who likes cycling the most. She loves cycling in her spare time.
Rosé's favorite sentence is "More of you, less of me".
She is known for being the shyest and most emotional member of the BLACKPINK group. Park Chae-young says she can cry very easily.
Rosé (Park Chae-young) Favorite Things
| | |
| --- | --- |
| Favorite Color | Baby pink |
| Favorite Number | 5 |
| Favorite Food | Kimchi Stew (Korean Food), Chocolate brownie, mango |
| Favorite Perfume | She likes sweet and sugary perfumes. |
| Favorite Music | Younger Hunger – Summer Bummer, Wallows – Pleaser, Velvet Underground Sunday Morning |
Rosé (Park Chae-young) Boyfriends
Like other BLACKPINK band members, Rosé (Park Chae-young) does not have a known romantic relationship, due to the strict rules of dating from the managing company YG Entertainment. However, in an episode of Weekly Idol, it is learned that the man Rosé (Park Chae-young) dreams of is a good singer, good guitar player, kind and good person. Although not much is known about Rosé (Park Chae-young) dating and romantic relationships, the artist continues to be at the forefront of her music career by following the rules of YG regarding this situation.